Perfect Tote Mini plus divider promo
The Crew's Favourite, Best-Selling, & Waitlist Inducing Tote
⭐⭐⭐⭐⭐ Rated 5.0/5.0 By 100% Satisfied Customers
Live A Life Out of The Clutter
No more lost items,
No more junk in my bag,

Just beautiful and easy living with My Perfect Tote!






Who else has experienced turning our bags upside down to spill all our things to find one item?

Do you get frustrated when you find your bag in chaos?
We created The Perfect Tote + Divider because we are sick of the endless disorder inside our totes and the world is lacking a tasteful bag that marries class & functionality.
The Perfect Tote set in an innovative design that is totally beautiful, stylish and functional.
A structured mini silhouette with compact interior with enough space for the essentials - think our signature card purse, keys, and cell phone.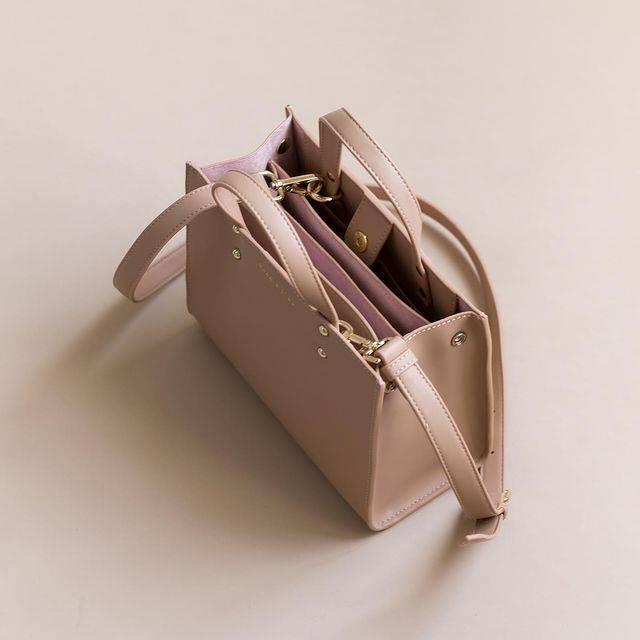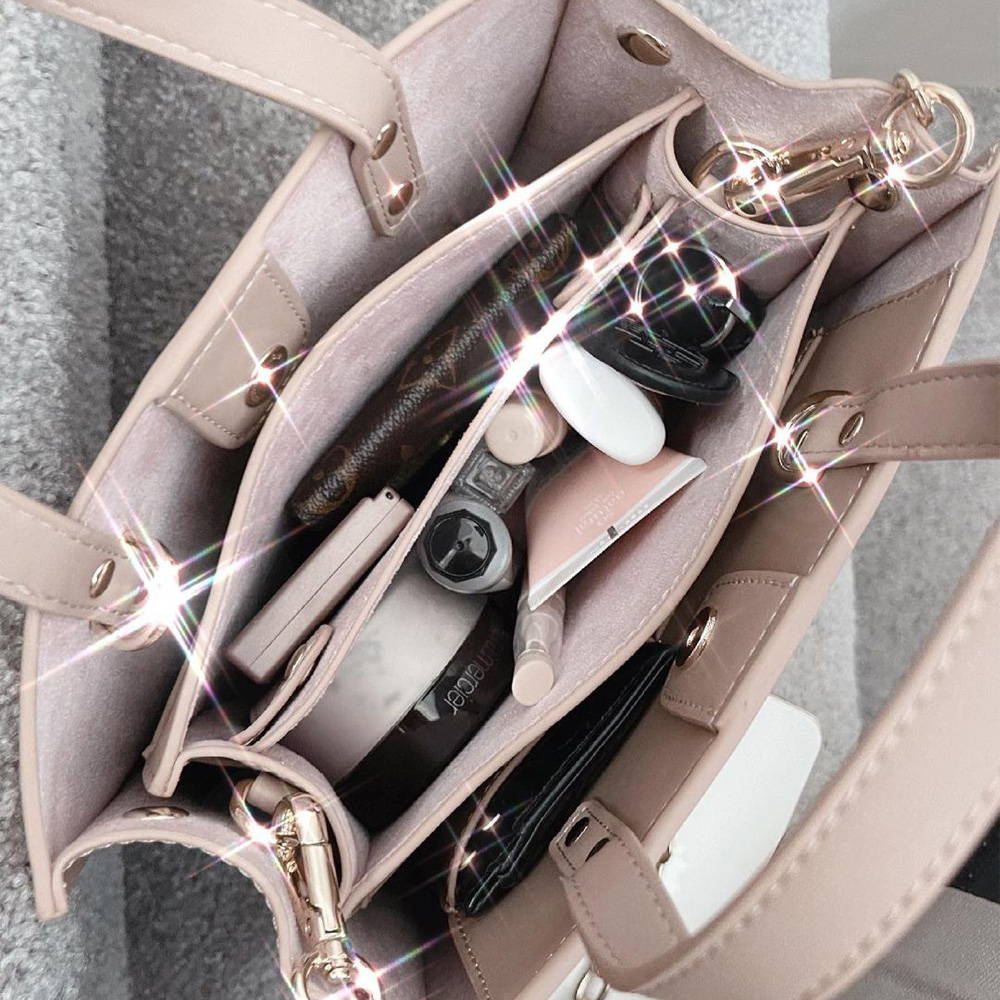 Meet The Kon-Marie of Totes and find inner peace in an organized and systematized lifestyle in The Perfect Tote
The Perfect Tote set in an innovative design that is totally beautiful, stylish and functionality.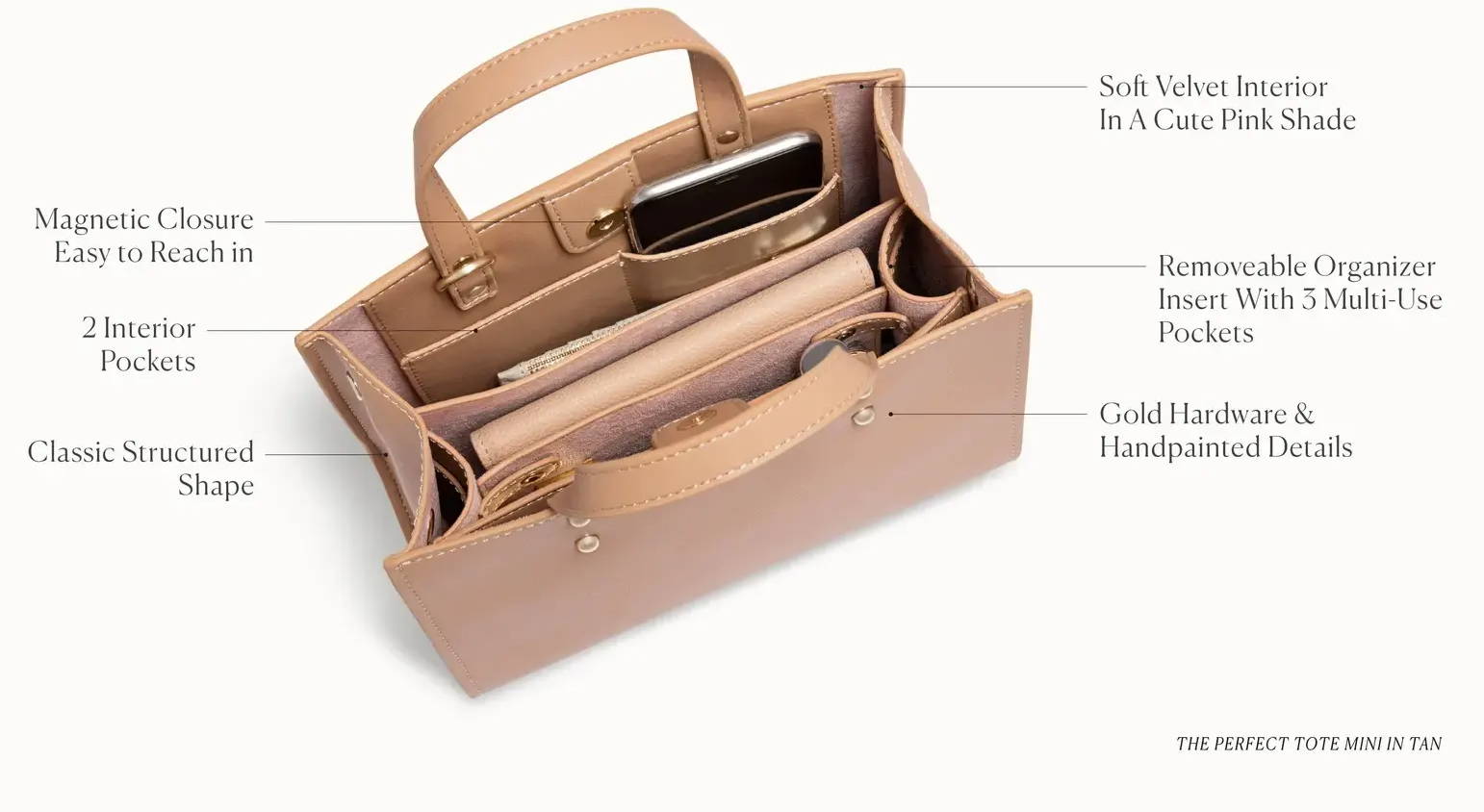 Wear it in Different Cute & Classy Ways
The Perfect Tote comes with a shoulder strap that is both adjustable and removable. You can wear it cross body or show it off hand-held. Date night? dress it up with our signature gold Figaro chain for extra show.
Want to switch up your bag? Just pop your Perfect Divider over!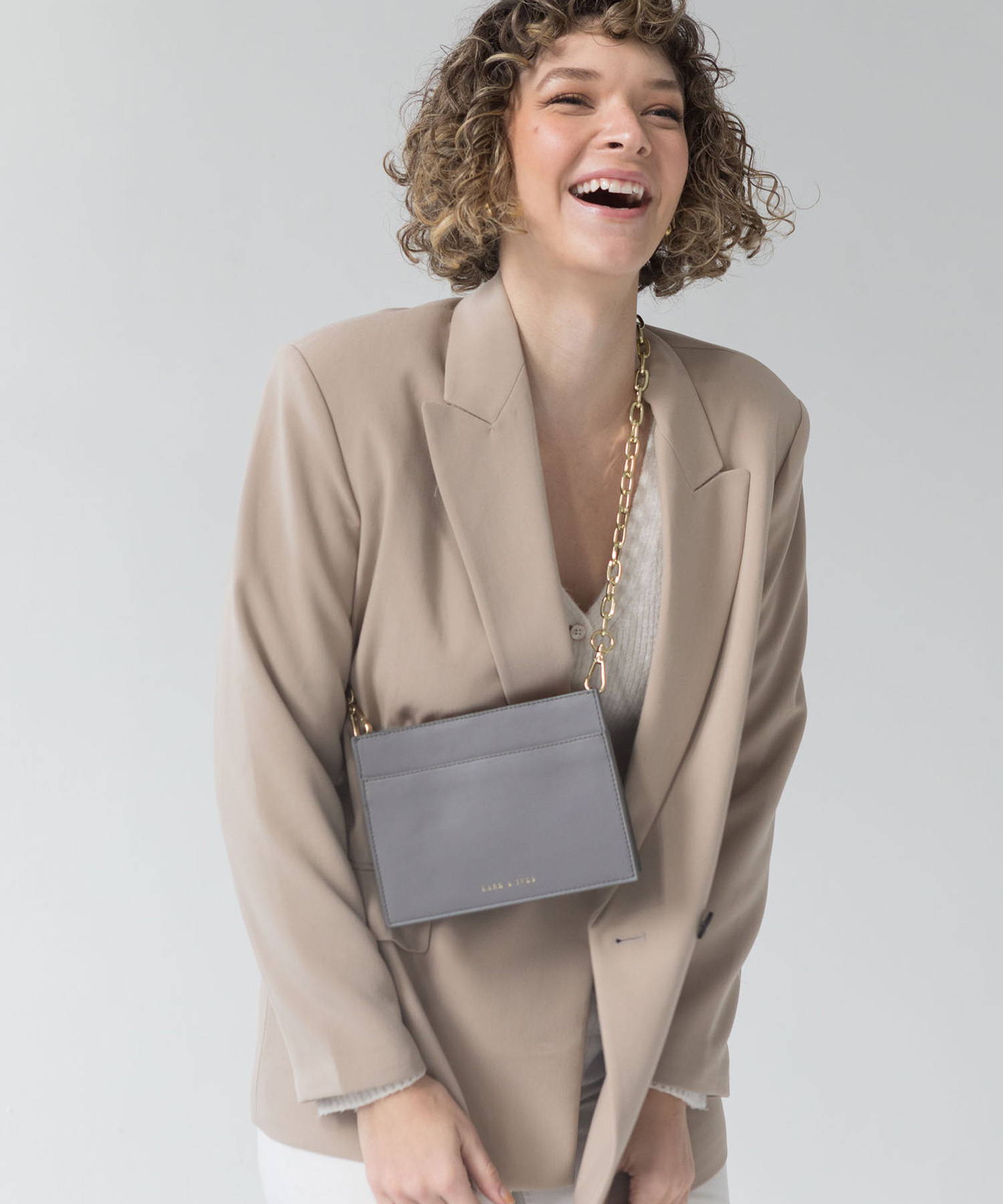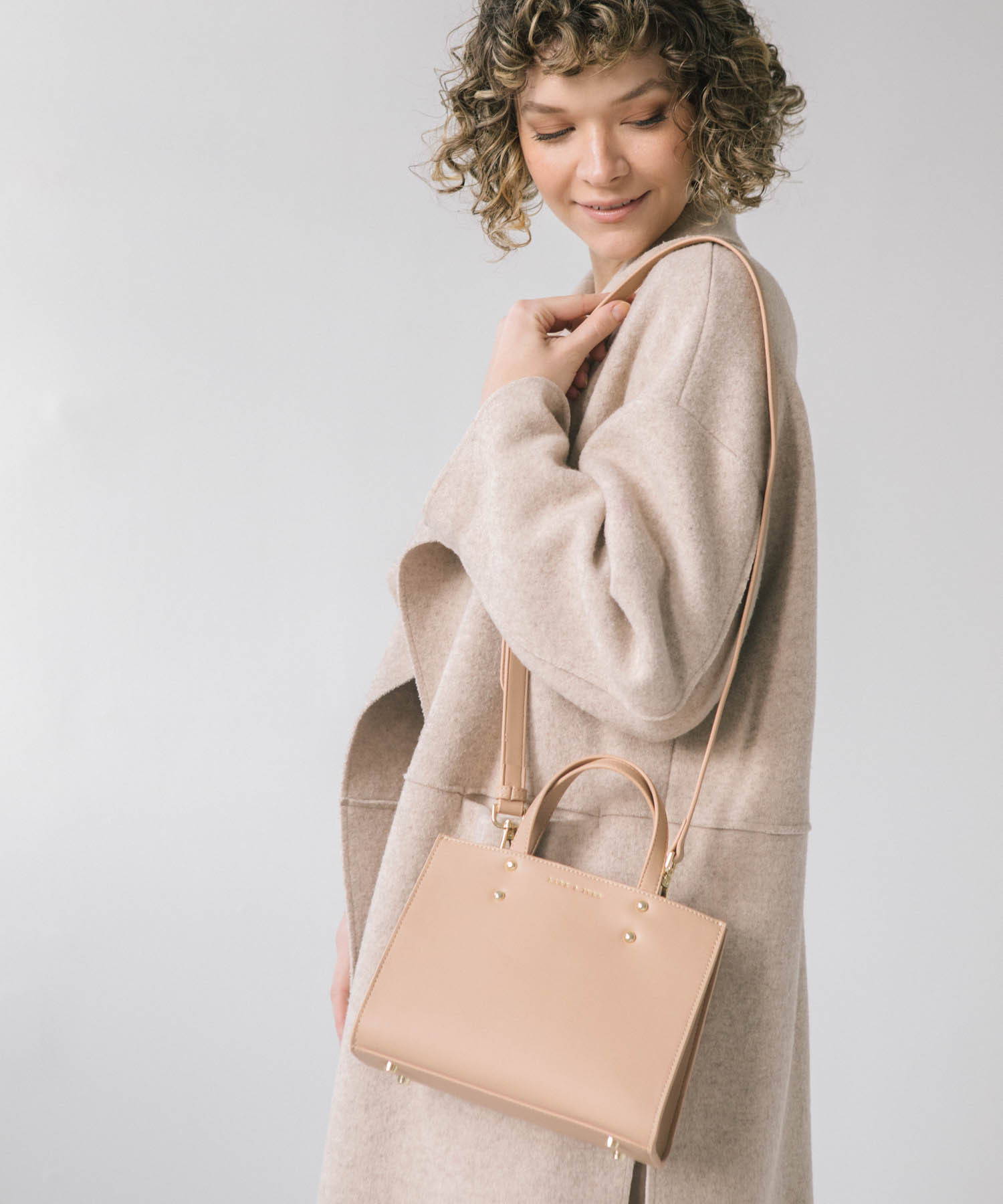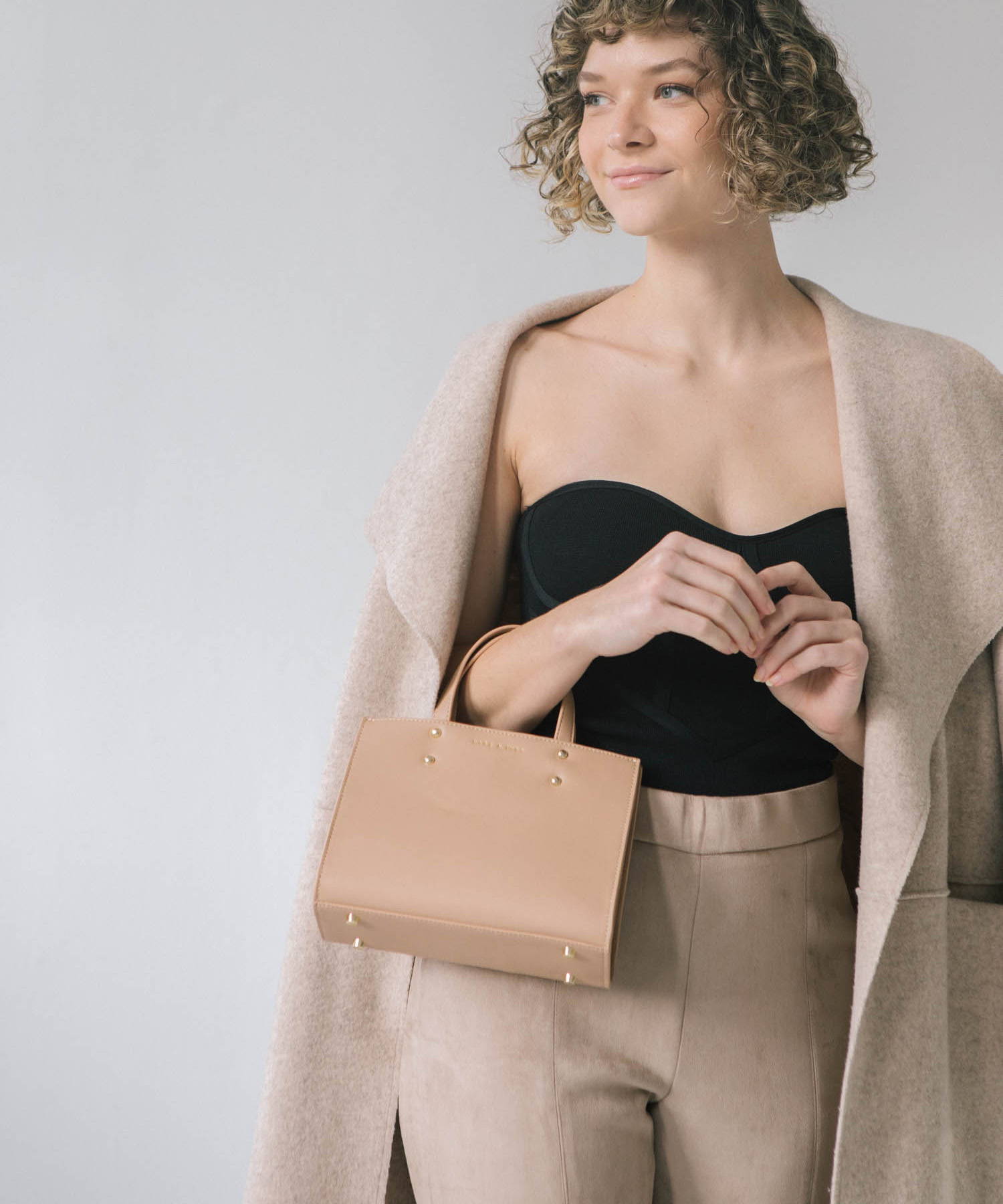 + FREE SHIPPING on US & CANADA 🙀

or 4 interest-free payments with
This bundle includes our Perfect Divider + Gold Figaro Chain.
Available in Sable Gray & Tan.
Size: 8.85 x 6.7 x 4 inches, the straps are 3.7 inches tall.  
4-Interest Free Installment Available Here! Pay via Afterpay Gateway (for US customers only)
I'm so happy with my order! I got the Perfect Tote Mini in Tan and it's absolutely beautiful!! I love that it's vegan leather, but I've never felt vegan leather so soft. The light pink interior is gorgeous as well! I love that I can wear it as a cross body bag. I've already gotten so many compliments on it when I've been out and I make sure to tell people that it's from Lark and Ives!
Rauha
⭐⭐⭐⭐⭐
The product lives up to its name! It's truly the perfect tote! I purchased the divider to go with it and it holds everything I need and more! I consider myself to be very minimalist (keys, small wallet, and chapstick are my essentials) so the size of this tote is great even without the divider. I purchased this in the tan color and it's beautiful! Goes with everything! And it's vegan and the company is woman-owned. Just so much to love here all around :)
Leeza
⭐⭐⭐⭐⭐
Lovely and stylish!
I love my mini tote. The color, sable tan, is easy to match with anything and I can dress it up and down! I have gotten so many compliments and the foil personalization also added to it. I like the strap too—the right size and subtle and not too chunky. I am surprised how I can fit so many things in this mini tote—water bottle and wipes for my toddler and my phone and keys;). Love this tote! Functional and stylish and worth it!
Lisa S
⭐⭐⭐⭐⭐
This bag feels totally different, where I actually can FIND things from it! Love it!
Brooke Rosale
⭐⭐⭐⭐⭐
I was getting two bags in ONE, because the divider has a chain on it where I can wear it like a second bag…I'm super impressed
Rachel Mooreland
⭐⭐⭐⭐⭐
I love the fact that you can use it as a cross body, or take the straps off and hold it
Katie Moseng
⭐⭐⭐⭐⭐
We offer returns on unused products within 10 days of receipt for a refund within North America + a 10% stocking fee. Once we receive the returned item(s) the charges will be credited to your original method of payment excluding shipping costs, which are non-refundable. Used, opened, personalized and/or final sale items cannot be returned.

We understand that as a result of COVID-19, returning a product might not be as easy as it usually. If you have any issues with your return, please reach out to support@larkandives.com for assistance.
When will I receive my order?
Typically, the orders are processed within 2-5 business days and then shipped. Please email our customer care team at support@larkandives.com and we will be happy to let you know the status of your order should you have any questions or concerns.
MOST ORGANIZERS COLLAPSE INSIDE MY HANDBAG, will ​The Perfect Divider do this?
​The Perfect Divider will not collapse inside your Perfect Tote. It's designed with rigid walls that keep every pocket upright and fits in your Perfect Tote like a match made in heaven. These walls are slightly moldable​, but it is made to look boxy whether you are using it as a divider or wearing it as a purse​
How do I clean my ​Lark & Ives product?
If you love your bag, it'll love you back​!
1. Keep it shady. Don't overexpose your bag to heat, or water.
2. ​Use a gentle soap to hand wash your bag.
3. Lighter colors​, such as our Tan, ​don't camouflage stains as well as darker colors, so use a touch more care with them.
4. And finally, when you're not using your bag, store it in the dust bag. Bags need their beauty rest too.